Welcome to the Clovelly Eagles
Welcome to the Clovelly Junior Rugby Union Club website.  The Clovelly Eagles is one of the premier junior rugby clubs in the Randwick District and this year we celebrate 55 years of junior rugby!
Since it was established in 1962, the Club has developed into one of the largest Junior Rugby Clubs in the Eastern Suburbs, with around 300 players filling 22 teams from Under 6s through to Under 16s.  We are proud of our tradition as a community club which values sportsmanship, fair play and team work and we have now had successive generations of families playing for the Club. We aim to provide a sound rugby programme based on developing rugby skills while maintaining an enjoyable and fair opportunity for all standards of player.  This emphasis has seen thousands of young rugby players develop through the Club. The Club has produced many players who have gone on to representative honours including the likes of Wallabies – Gary Ella ('82-'88), Chris Whittaker ('98-'06) and Morgan Turinui ('03-'05) and Australian Sevens including Shawn Mackay ('04-'08), Tim Clark ('04) and Shaun Foley ('09).
---
Latest Club News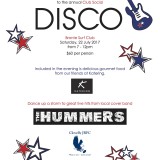 Clovelly Eagles 2017 Social Saturday 22nd July 2017 19:00 – midnight Bronte Surf Club Get your glitter on! $60 pp Tantalising treats from Kate & Mark at Katering (U12 Reds) Dance the night away with The Hummers featuring Richard Schall (U11 Blues) Don't miss out…book now via Team...